If you would like to sign up to our weekly news email please subscribe here.
WELLBEING COURSE
After the success of the first course, we are delighted to say that we are running a second wellbeing course in the parish centre on Thursday nights, suitable for everyone, not just people of faith. It's free to join.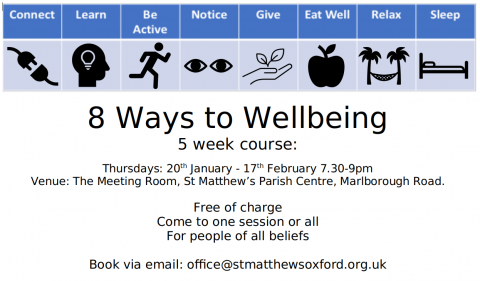 BAPTISM AND CONFIRMATION
On April 3rd, Bishop Steven will be coming to St Matthew's to confirm some of our young people. If any adults have been thinking about baptism or confirmation or just want to know what it's all about, we are setting up an online resource and chat to explore whether it might be for you. It is designed for flexible use to work around your other commitments. Please email Jenni for more details.
Ongoing mid week activities.
Sunday
10.30am:   Morning Prayer at St Matthew's and streamed online via YouTube - click here to watch the live stream or a recording of it later.  Details of arrangements in place if you are coming to the service in person are on our website - click here
  
6.00pm:     Evening Prayer on Zoom: a short (20 minutes or so) reflective service. Contact the church office for details on how to join.
Monday
8.15pm:     Silence at St. Matts - The meditation group meets at 8.15pm in the church to share a short reflection and 30 minutes of silent meditation together.  Everyone is most welcome.
Tuesday
9..00am:    Jam and Juice - a group for pre-schoolers and their carers. Games, toys, songs, a chance to chat, porridge for the children, tea and coffee for grownups
10.00am:   Coffee and Cake: Gallery / church garden. For parents and carers to relax and pray together. Please contact contact the church office for mor details.
6.45pm:     Prayer Meeting: the single most important thing to help the church thrive. Even if you can only join for 10 minutes, do come along. For contact details please contact the church office.
Thursday
11.00am:   Holy Communion in church. All welcome.
12.00pm:   Drop In Lunch.
Fellowship groups are meeting regularly online during the week. For more details please contact the church office.
What's on at St Luke's?  click here to visit the website
.