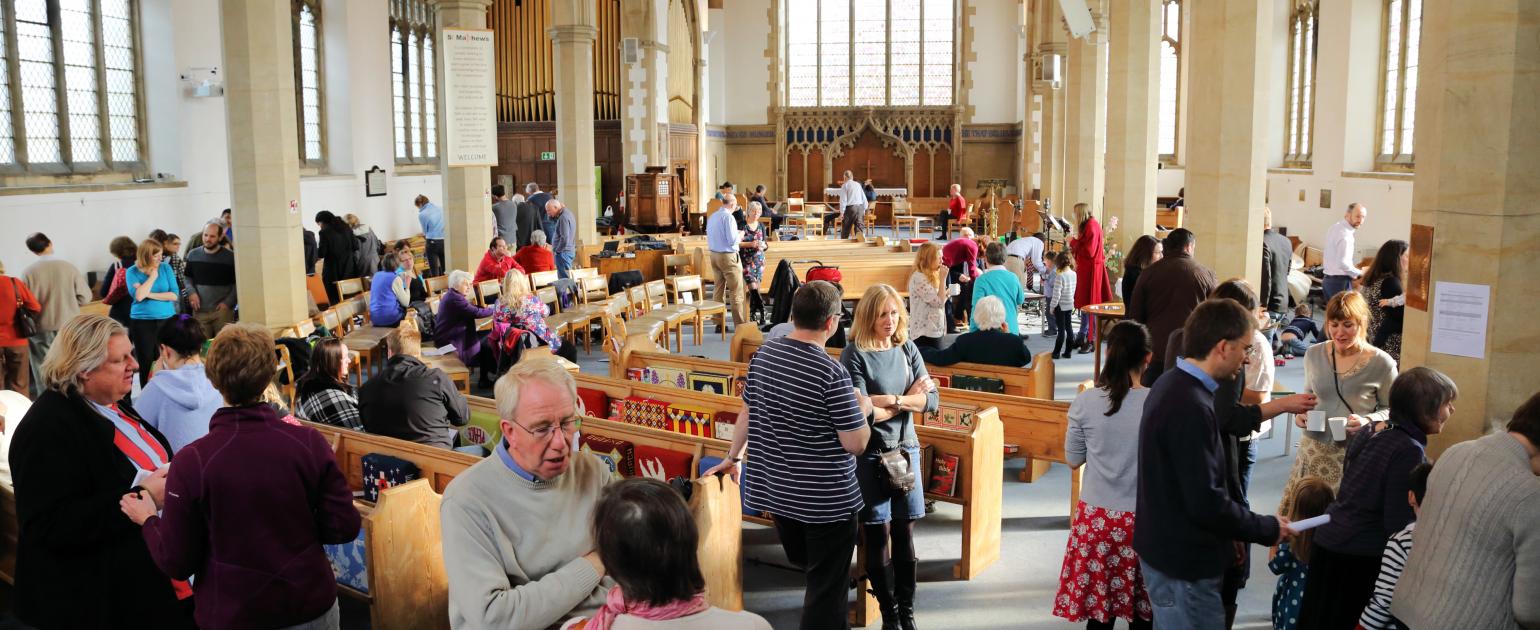 Lockdown
The church will be closed during the lockdown period so the service will be livestreamed on YouTube. Please do join us by clicking on this link: St Matthew's YouTube channel.
There will be provision for children/young people online as per the details provided by Naomi Shaw and Kate Smith, details can be obtained via the church offce.
Drinks on the Terrace! 12pm
Whether you worshipped online or live, a chance to come together. Your choice of drink! Please contact the church office if you do not have the zoom link.
The church will be opened for private prayer at some time during the week. Details will be provided soon
When not in lockdown the normal pattern of worship and prayer is as follows:
Sunday morning
8:00am – Holy Communion
On the 2nd, 4th and 5th Sundays of the month – using the Book of Common Prayer. This is usually a very small group of people (2-8 adults).
10:30am – Family service
This service is family-friendly and fairly informal – loosely based on Common Worship. The congregation spans the age spectrum. There is a mix of contemporary songs and traditional hymns led by a music group. The children are present for the start of the service and a short talk before they and the young people continue worship in their respective groups.
Holy Communion is celebrated twice a month (on the 1st and 3rd Sundays) with the children and young people re-joining at the end of the service. After the service we have refreshments and there is a healthy buzz in the church as people meet and catch up with one another. A small team offers prayer ministry at this time.
For details of upcoming services (link to 2rd level page)
Listen to the latest sermon/talk (link to 4th level page)
Midweek
Thursday Communion
Holy Communion using the Book of Common Prayer is held at the church most Thursdays (8-14 adults attend). It is hugely valued by some older members of the congregation.
Monday silence at St Matthew's
This is an opportunity to share silent Christian meditation together. It is simple and completely informal, though it draws on an ancient Christian tradition. The format includes a chat, listening to some Christian music, a Bible passage and some thoughts on Christian meditation followed by half an-hour's silent prayer together.
Tuesday prayer meeting
An evening group devoted to prayer for all aspects of the church life, the community and the wider world. This prayer meeting provides an opportunity to remember those with specific needs.
Coffee and Cake
A small highly supportive group of parents who meet to chat, study the Bible and pray with and for each other. A crèche worker looks after the children. [Add contact and times